Description
PCB separator MAESTRO 4S
Stress-free separation of pre-scored PCBs
The PCB separator MAESTRO 4S separates both large and small PCBs quickly, economically and without stress. Cutting with only a single traverse of the pre-scored groove causes tensile and compressive stresses that can damage sensitive components near the groove. Even a second traverse of the groove accompanied by an adjustment of the blade distance substantially reduces the tensile and compressive stresses. This significantly improves the quality of the populated PCBs.
The most important features
The blade distance is entered on the operating panel and its adjustment is motor-powered.
Up to nine programs can be stored.
The materials used for PCBs are FR4 and aluminum
The continuously adjustable separation length is set with limit switches.
The accumulated cutting performance is displayed for the purpose of scheduling preventive maintenance of the blade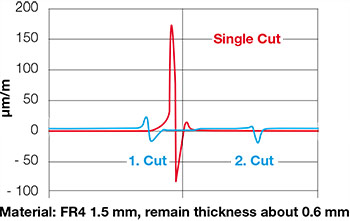 For separating aluminum with the MAESTRO 4S we recommend using the FR4 circular blade with special blade settings. More information in the operation manual.
Various aluminum alloys are used in the manufacture of PCBs. We recommend submitting sample PCBs with the order in order to optimize the cutting geometry and for the correct adjustment of the circular blades.